TrueGrid® Finite Element Meshes, Page 2
This is the second page of the Structural Collection of sample TrueGrid® meshes. Click on the thumbnail below to enlarge the image. Thumbnails with a solid color bar below them lead to multiple-image collections.


Racing Bike
Tool Bracket
Fictitious Starship
Pipe Elbow
Rim
Wheel Hub

Back to FE Meshes, Page 1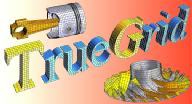 Home Page

Questions, comments, suggestions

---
Copyright © 1996-2013 XYZ Scientific Applications, Inc. All rights reserved.