TrueGrid® Finite Element Meshes, Page 1

TrueGrid® is the preprocessor of choice in many different industries. This is the first half of the Structural Collection of sample meshes. If you would like, feel free to go directly to the second page of the collection. Click on the thumbnails below to enlarge the image. Thumbnails with a solid color bar below them lead to multiple-image collections.


Golden Gate Bridge
Rod and Piston
National Ignition Facility
Child-Proof Cap
Clorox Bottle
Pick-up Truck Frame
Impactor
Dam


Another page of Finite Element Meshes.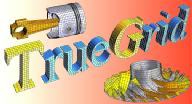 Home Page

Questions, comments, suggestions

---
Copyright © 1996-2013 XYZ Scientific Applications, Inc. All rights reserved.