Exports to Finite Element Analysis (FEA) Simulation Codes

ABAQUS

ALE3d

ANSYS®

AUTODYNTM

DYNA3D

EXODUS II

LS-DYNA

MARC

NASTRAN®

NIKE3D

PATRAN® Neutral File

TOPAZ3D
Exports to Computational Fluid Dynamics (CFD) Simulation Codes

CFD-ACE®

CFX

COMPACT

FIDAP

FLUENTTM

GRIDGEN3D

KIVA 4

PLOT3D at FSU or PLOT3D at NASA


STAR-CD

TASCflowTM
Just Some of the Properties and Loads Generated by TrueGrid®

Displacement, acceleration, and moments.


Initial, boundary, and surface velocities.


Force, nodal loads, pressure, and shock arrival.


Nodal constraints, symmetry, and symmetry with failure conditions.


Non-reflecting boundaries and stone walls.


Initial and boundary temperatures.


Heat flow, convection, and internal heat generation.


Electric flux, magnetic and electrostatic potentials, and radiation.


Radiation enclosures.


Inlets, outlets, walls, fans, symmetry, periodicity and axis.


Stagnation, baffles, transient, degas, radiation, and riemann conditions.


Pistons and valves.


Beams and shells with cross section properties.


Springs, dampers, point masses, and weld spots.


Interface segments, detonators, and rigid bodies.


Shell to solid interfaces.


Tracer particles and smoothing constraints


Interface elements, sliding, block, and saved interfaces.


Material models and 1st and 2nd order element types.


Material orientation, variable thickness shells, and integration points.


Analysis and database options.


Multiple point constraints and joints.


Nodal, facial, surface, and element sets.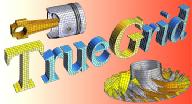 Home Page

Questions, comments, suggestions

---
Copyright © 1996-2013 XYZ Scientific Applications, Inc. All rights reserved.